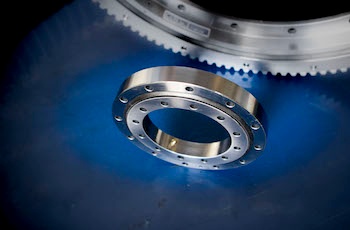 Wind power and other alternative energy forms continue to grow in usage. Companies are increasingly using wind to power manufacturing plants and reduce the need for nonrenewable energy sources. Slewing ring bearings play a necessary role in the production of wind power. But when the slewing ring bearings used in wind turbines don't do their job, the cost of doing business can rise drastically and quickly.
Slewing Ring Bearings in Wind Power Applications
Wind power applications for slewing ring bearings specifically require a combination of even balance, efficient design and durability to stand up to the tests of time. That means you need to get the right part for the job at the very beginning. Talking to a slewing ring bearing engineer prior to purchasing can be the first step in a winning project.
Generally, there are two types of bearings used in wind power: slewing ring bearings and spherical roller bearings. Slewing ring bearings are used in the pitch and yaw locations within a wind turbine, and they are used to keep the blades rotating smoothly.
Getting a product that is not precisely constructed can cause an uneven distribution of weight in a wind turbine and total system failure. This is both dangerous and extremely costly. Aside from normal wear and tear that occurs naturally over time, slewing ring bearings don't usually have any problems as long as they're properly maintained.
Choosing the Right Slewing Ring Bearing Manufacturer
When you're looking for new slewing rings, first look at how many options a supplier has to offer. A supplier that offers variety will bring versatility to your current and future applications.
Before choosing a manufacturer or retailer consider more than just slewing ring type offered. Also consider the following:
Slewing ring support structure: Does the slewing ring evenly distribute weight?
Slewing ring mounting bolts and holes: Does the retailer offer the bolts you need for the bearing and are the bolt holes evenly spaced for proper weight distribution?
Slewing ring bearing mounting surface: Is it flat and free of distortion and debris?
Talk to an Expert
At SlewPro, our team of engineers can help you determine what product you need for your particular application.
Contact our team today to get insights on slewing ring bearings for wind power applications.