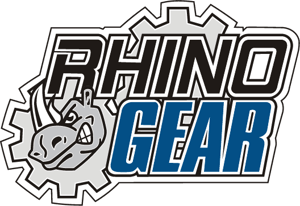 A worm gear system consists of a worm (pinion) and worm wheel (worm gear) positioned as a cross axis, often used when high ratio is required and space is limited.
Worm drives can help decrease speed and allow higher torque to be transmitted. A gearbox using worms and worm gears will be more compact than one made from most other gear options.
With these features, common worm gear applications include presses, small engines, lifts and elevators, rolling mills, conveying engineering, mining industry machines and worm drive saws. Advantages of worm gears are low noise and low vibration. Rhino Gear can design and make worm gear systems in hardened steel, bronze or nonmetallic options. As long as they are properly mounted and lubricated, worm gears are known to run smoothly and quietly.
RHINO GEAR WORM GEAR CAPABILITIES
Pitch diameter range: ½" to 49"
Diametric pitch range: 3 to 24
Worm gears can easily be an effective and reliable piece of equipment. For custom worms and worm gears made to your exact specifications, contact us or request a quote today.