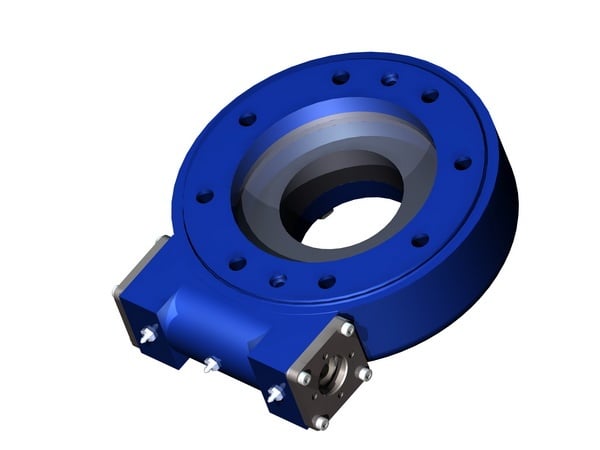 PE Series Precise Slewing Drive
PE Series slewing drives are the ideal solutions when precision is a must as these products can be controlled between 0.05° and 0.15°.
Features
Maximum tracking accuracy
Easily achieve accurate transmission and positioning
Flexible input interface
Application
Originally developed for the solar power industry, the PE Series slewing drive has a variety of applications including:
Automatic Assembly Lines
Welding Positioners
Solar Tracking Systems
S Series Open Housing Slewing Drive
The S Series is comprised of four separate components: a slewing ring, the open housing, auxiliary parts and hourglass worm.
Features
Lower maintenance costs compared to enclosed slewing drives
Ability to transfer high torque through gearbox
Easily installed
Applications
The S Series is typically specified in the construction industry through the following applications:
Truck-Mounted Crane Rotation
Aerial Vehicle Chassis Rotation
Automatic Assembly Lines
HSE Series Slewing Drive for Modular Vehicles
HSE Series slewing drives have the ability to withstand large axial dynamic loads due to the structural design of the product.
Features
High output torque capabilities
Designed to prevent leakage of gear oils
Copper worm wheel teeth allow for larger drive torque and strong scuffing resistance
Applications
Originally tailored for hydraulic modular trailers, the HSE Series slewing drive has a wide variety of mechanical applications including the following:
Slick Collection Machines
Rotation of Oil Rigs
Modular Vehicle Wheel Rotation
SE-2 Series Enclosed Slewing Drive
The SE Series slewing drive is a dual worm slewing drive consisting of two hourglass worms, a slewing ring, enclosed housing and supporting parts - resulting in double tooth contact and increased torque capabilities.
Features
Can be rotated by using two motors
Two worm design results in more contact and higher torque output
Worms have been heat treated resulting in harder teeth
Applications
Much like the SE Series, the SE-2 Series has indoor and outdoor applications including:
Drill Rig Rotation
Solar and PV Tracking Systems
Rotation of Cable Winding Machines
For more information on the WEA Series slewing drives or to request a quote, contact SlewPro today. You can also download CAD files and find competitors crossover numbers in our database.
S9 Slewing Drive

MODEL
OUTPUT TORQUE
TILTING MOMENT
HOLDING TORQUE
STATIC AXIAL
STATIC RADIAL
DYNAMIC AXIAL
DYNAMIC RADIAL
GEAR RATIO
TRACKING PRECISION
UNIT WEIGHT
S9
6.5 kN.m
33.9 kN.m
38.7 kN.m
338 kN
135 kN
81 kN
71 kN
61:2
≤ .17°
81 lb.
4794 lbf-ft
25000 lbf-ft
29000 lbf-ft
76000 lbf
30000 lbf
18000 lbf
16000 lbf
---
S12 Slewing Drive

MODEL
OUTPUT TORQUE
TILTING MOMENT
HOLDING TORQUE
STATIC AXIAL
STATIC RADIAL
DYNAMIC AXIAL
DYNAMIC RADIAL
GEAR RATIO
TRACKING PRECISION
UNIT WEIGHT
S12
7.5 kN.m
54.3 kN.m
43 kN.m
475 kN
190 kN
114 kN
100 kN
78:1
≤ .17°
90 lb.
5532 lbf-ft
40000 lbf-ft
32000 lbf-ft
107000 lbf
43000 lbf
26000 lbf
23000 lbf
---
S14 Slewing Drive

MODEL
OUTPUT TORQUE
TILTING MOMENT
HOLDING TORQUE
STATIC AXIAL
STATIC RADIAL
DYNAMIC AXIAL
DYNAMIC RADIAL
GEAR RATIO
TRACKING PRECISION
UNIT WEIGHT
S14
8 kN.m
67.8 kN.m
48 kN.m
555 kN
222 kN
133 kN
117 kN
85:1
≤ .17°
103 lb.
59000 lbf-ft
50000 lbf-ft
35000 lbf-ft
125000 lbf
50000 lbf
30000 lbf
26000 lbf
---
S17 Slewing Drive

MODEL
OUTPUT TORQUE
TILTING MOMENT
HOLDING TORQUE
STATIC AXIAL
STATIC RADIAL
DYNAMIC AXIAL
DYNAMIC RADIAL
GEAR RATIO
TRACKING PRECISION
UNIT WEIGHT
S17
10 kN.m
135.6 kN.m
72.3 kN.m
970 kN
390 kN
235 kN
205 kN
85:1
≤ .17°
191 lb.
7400 lbf-ft
100000lbf-ft
53000 lbf-ft
218000 lbf
88000 lbf
53000 lbf
46000 lbf
---
SE14-2/S14-2 Slewing Drive

MODEL
OUTPUT TORQUE
TILTING MOMENT
HOLDING TORQUE
STATIC AXIAL
STATIC RADIAL
DYNAMIC AXIAL
DYNAMIC RADIAL
GEAR RATIO
TRACKING PRECISION
UNIT WEIGHT
SE14-2
12 kN.m
67.8 kN.m
48 kN.m
555 kN
222 kN
133 kN
117 kN
85:1
≤ .17°
167 lb.
8851 lbf-ft
50000 lbf-ft
35000 lbf-ft
125000 lbf
50000 lbf
30000 lbf
26000 lbf
S14-2
12 kN.m
67.8 kN.m
48 kN.m
555 kN
222 kN
133 kN
117 kN
85:1
≤ .17°
136 lb.
8851 lbf-ft
50000 lbf-ft
35000 lbf-ft
125000 lbf
50000 lbf
30000 lbf
26000 lbf
---
SE17-2/S17-2 Slewing Drive

MODEL
OUTPUT TORQUE
TILTING MOMENT
HOLDING TORQUE
STATIC AXIAL
STATIC RADIAL
DYNAMIC AXIAL
DYNAMIC RADIAL
GEAR RATIO
TRACKING PRECISION
UNIT WEIGHT
SE17-2
16.8 kN.m
135.6 kN.m
72.3 kN.m
970 kN
390 kN
235 kN
205 kN
102:1
≤ .15°
262 lb.
12391 lbf-ft
100000 lbf-ft
53000 lbf-ft
218000 lbf
88000 lbf
53000 lbf
46000 lbf
S17-2
16.8 kN.m
135.6 kN.m
72.3 kN.m
970 kN
390 kN
235 kN
205 kN
102:1
≤ .15°
224 lb.
12391 lbf-ft
100000 lbf-ft
53000 lbf-ft
218000lbf
88000 lbf
53000 lbf
46000 lbf
---
HSE21 Slewing Drive

MODEL
OUTPUT TORQUE
TILTING MOMENT
HOLDING TORQUE
STATIC AXIAL
STATIC RADIAL
DYNAMIC AXIAL
DYNAMIC RADIAL
GEAR RATIO
TRACKING PRECISION
UNIT WEIGHT
HSE21
21.8 kN.m
26.6 kN.m
167 kN.m
1058 kN
421 kN
265 kN
216 kN
82:1
≤ .15°
409 lb.
16078 lbf-ft
19618 lbf-ft
125000 lbf-ft
238000 lbf
95000 lbf
60000 lbf
49000 lbf
---
HSE21-2 Slewing Drive

MODEL
OUTPUT TORQUE
TILTING MOMENT
HOLDING TORQUE
STATIC AXIAL
STATIC RADIAL
DYNAMIC AXIAL
DYNAMIC RADIAL
GEAR RATIO
TRACKING PRECISION
UNIT WEIGHT
HSE21-2
43.6 kN.m
52.3 kN.m
167 kN.m
1058 kN
421 kN
265 kN
216 kN
82:1
≤ .15°
453 lb.
32264 lbf-ft
38702 lbf-ft
125000 lbf-ft
238000 lbf
95000 lbf
60000 lbf
49000 lbf
---
HSE25 Slewing Drive

MODEL
OUTPUT TORQUE
TILTING MOMENT
HOLDING TORQUE
STATIC AXIAL
STATIC RADIAL
DYNAMIC AXIAL
DYNAMIC RADIAL
GEAR RATIO
TRACKING PRECISION
UNIT WEIGHT
HSE25
25 kN.m
30 kN.m
271 kN.m
2360 kN
945 kN
590 kN
470 kN
94:1
≤ .15°
561 lb.
18439 lbf-ft
22140 lbf-ft
200000 lbf-ft
531000 lbf
212000 lbf
133000 lbf
106000 lbf
---
HSE25-2 Slewing Drive

MODEL
OUTPUT TORQUE
TILTING MOMENT
HOLDING TORQUE
STATIC AXIAL
STATIC RADIAL
DYNAMIC AXIAL
DYNAMIC RADIAL
GEAR RATIO
TRACKING PRECISION
UNIT WEIGHT
HSE25-2
50 kN.m
60 kN.m
271 kN.m
2360 kN
945 kN
590 kN
470 kN
94:1
≤ .15°
605 lb.
36878 lbf-ft
44280 lbf-ft
200000 lbf-ft
531000 lbf
212000 lbf
133000 lbf
106000 lbf