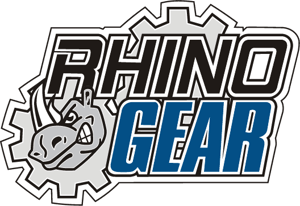 Rhino Gear makes internal spur gears for a wide range of equipment applications, whether your need is custom or off-the-shelf.
Internal spur gears, also known as ring gears, have the same standards as an external spur gear except that the teeth are cut into the inside diameter while the outside is kept smooth. Internal gears can provide a compact solution that delivers large speed reductions and reduced sliding wear action, meaning you'll get increased longevity.
When it's necessary to have two parallel shafts rotate in the same direction, internal gears eliminate the need for an idler gear. Internal gears can be applied in a wide range of equipment and applications.
These gears are primarily used in planetary gear train applications, but can also be applied in other situations. Advantages of the use of a planetary gear train are low vibration, high speed reduction ratio and the cost-effectiveness of the entire train layout. Common uses for planetary gear transmissions are robotic arms, hybrid vehicle power transmissions and turbine generators.
RHINO GEAR INTERNAL GEAR MANUFACUTURING CAPABILITIES
Inner diameter range: 1" to 34"
Diametric pitch: 3 to 64 (8.5–0.4 module)
Face width range up to 6"
Contact us or request a quote today and discover the benefits of working with a team of highly technical personnel who offer high-quality custom internal gears.