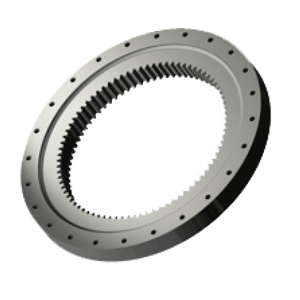 CUSTOMIZED SLEWING RING BEARINGS FIT FOR YOUR NEEDS
Potesta & Company is pleased to offer everything from small, single-row ball slewing ring bearings for light-duty applications to large, triple-roller slewing rings for demanding heavy applications and geared bearings for everything in between.
These small and large slewing bearings, which are designed in the U.S., built to U.S. standards and supported by in-house experts, can cross over all major brands for an exact fit. Can't find exactly what you need? Our team of engineers provides slew ring bearing designs for your application.
What You Can Expect From SlewPro Slewing Rings:
Dependable Delivery: Customize your slewing ring bearing order with inventory and fulfillment services such as just-in-time delivery, private labeling, blanket orders and scheduled releases.
Technical Support: Our team of engineers provides slewing ring application engineering solutions such as 3D modeling, 2D drawings, FEA and technical manual assistance.
High Quality: SlewPro high-quality slewing ring bearings are closely monitored throughout the manufacturing process, meeting or exceeding the quality of all major brands.
Fair Prices: Leveraging the power of the global economy keeps you on budget
Slewing Ring Features
Slewing ring bearings are designed for large load-bearing capability and can manage a full range of heavy-duty mechanical equipment. These devices have the capacity for horizontal, vertical or inclined operations of many varied applications. Each element may be custom designed to work independently or harmonize with existing equipment.
The variables of slewing ring bearings depend on the application, weight and intended function of the equipment. Variable features may include:
Single, double, or triple row bearing design for light, heavy, and massive loads
Choices of mounting configurations
Ball or cross roller designs
Sizes and location of bolt holes
Slewing Ring Applications
In different sizes and designs, slewing ring bearings turn heavy-duty cranes, offshore drilling equipment and medical diagnostic devices. Customized slewing devices operate:
Drilling equipment
Wind power devices
Mobile robotics extensions
Satellite equipment and mobile arms on spacecraft
Space tracking equipment
Solar tracking devices
Packaging and bottling devices
Medical packaging equipment
And much more
For more information on specific slewing ring products, please see the links below.