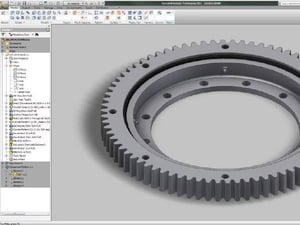 WE'RE EAGER TO PROVIDE THE BEST SOLUTIONS FOR ANY DESIGN
If you aren't a large OEM, chances are you aren't getting the level of service you deserve from a manufacturer of standard bearings. Custom manufacturers, on the other hand, are all about high-quality service. They know how important it is to keep the costs of production and design low without sacrificing quality.
SlewPro is staffed with a team of engineers to assist in the application of our products. Let us partner with you to provide the best solution for your design. Services include:
3D modeling for slewing rings
2D slewing ring drawings
FEA
Technical manual assistance
If you need a custom part or are replacing an existing one, contact SlewPro today to learn more about our services and how our slewing ring application engineering process can get you the part you need. For application assistance please download this form, complete it, and email to info@slewpro.com.