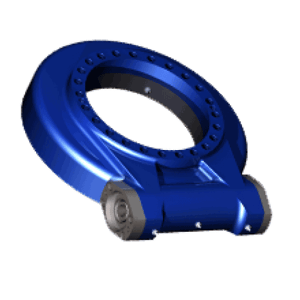 Heavy-Duty Slew Drives for Almost Any Application
Potesta & Company's SlewPro line features a myriad of slew drives for almost any application. A slew drive is designed to handle radial or axial loads using high rotational torque. Equipment for mining, construction, metalworking and other applications that require unrelenting strength combined with faultless precision use slewing technology for safety and accuracy.
Our slew drives can cross over all major brands for an exact fit, and with tilting moment capacity of 1,475 foot-pounds. to 200,000 foot-pounds, you're sure to find a perfect fit. All SlewPro slew drives are modular and come with a variety of options, including:
Single worm drives
Double worm drives
Hydraulic motors
Electric motors
Pneumatic motors
Encoders
Brakes
Tracking precision to 0 degrees
Open chassis
Enclosed chassis
Understanding the physics, types, functions and features of a slew drive is crucial to successful applications and optimal performance. Here are five things you need to know about slew drives.
Can't find a slew drive that fits your needs? Our team of engineers can design a slew drive unique to your application. For more information on specific slew drives, click on the links to get started.