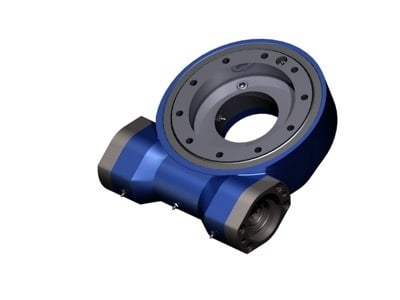 Worm Gear Slewing Drives
The WEA Series is the optimized and upgraded version of the traditional WE Series slewing drive.
Features
Thinner, higher strength and full-sealed design for optimal outdoor use
Full-sealed design can prevent corrosion and damage cause by wind, sand and water
Application
WEA Series slewing ring drives are typically specified as rotation parts for construction equipment and solar array systems, both indoors and outdoors. Some example applications include:
Solar Tracking Power Station
Arm Rotation for Crane Trucks
Aerial Platform Chassis Rotation
For more information on the WEA Series slewing drives or to request a quote, contact SlewPro today. You can also download CAD files and find competitors crossover numbers in our database.
Worm Drive Performance
WEA7 Slewing Drive

MODEL
OUTPUT TORQUE
TILTING MOMENT
HOLDING TORQUE
STATIC AXIAL
STATIC RADIAL
DYNAMIC AXIAL
DYNAMIC RADIAL
GEAR RATIO
TRACKING PRECISION
UNIT WEIGHT
WEA7
3.5 kN.m
13.5 kN.m
20 kN.m
210 kN
85 kN
60 kN
45 kN
47:1
≤ .15°
77.2 lb.
2583 lbf-ft
10000 lbf-ft
14800 lbf-ft
47200 lbf
19100 lbf
13500 lbf
10100 lbf
---
WEA9 Slewing Drive

MODEL
OUTPUT TORQUE
TILTING MOMENT
HOLDING TORQUE
STATIC AXIAL
STATIC RADIAL
DYNAMIC AXIAL
DYNAMIC RADIAL
GEAR RATIO
TRACKING PRECISION
UNIT WEIGHT
WEA9
8 kN.m
33.9 kN.m
38.7 kN.m
550 kN
205 kN
130 kN
110 kN
62:1
≤ .15°
116.8 lb.
5904 lbf-ft
25000 lbf-ft
29000 lbf-ft
123900 lbf
46200 lbf
29300 lbf
24800 lbf
---
WEA12 Slewing Drive

MODEL
OUTPUT TORQUE
TILTING MOMENT
HOLDING TORQUE
STATIC AXIAL
STATIC RADIAL
DYNAMIC AXIAL
DYNAMIC RADIAL
GEAR RATIO
TRACKING PRECISION
UNIT WEIGHT
WEa12
9.5 kN.m
54.3 kN.m
43 kN.m
725 kN
270 kN
180 kN
140 kN
79:1
≤ .15°
147.3 lb.
7011 lbf-ft
40000 lbf-ft
32000 lbf-ft
163000 lbf
60800 lbf
40500 lbf
31500 lbf
---
WEA14 Slewing Drive

MODEL
OUTPUT TORQUE
TILTING MOMENT
HOLDING TORQUE
STATIC AXIAL
STATIC RADIAL
DYNAMIC AXIAL
DYNAMIC RADIAL
GEAR RATIO
TRACKING PRECISION
UNIT WEIGHT
WEA14
10.8 kN.m
67.8 kN.m
48 kN.m
920 kN
343 kN
220 kN
190 kN
86:1
≤ .13°
165.3 lb.
7970 lbf-ft
50000 lbf-ft
35000 lbf-ft
207000 lbf
77200 lbf
49500 lbf
42800 lbf
---
WEA17 Slewing Drive

MODEL
OUTPUT TORQUE
TILTING MOMENT
HOLDING TORQUE
STATIC AXIAL
STATIC RADIAL
DYNAMIC AXIAL
DYNAMIC RADIAL
GEAR RATIO
TRACKING PRECISION
UNIT WEIGHT
WEA17
12.96 kN.m
135.6 kN.m
72.3 kN.m
1110 kN
414 kN
266 kN
220 kN
104:1
≤ .1°
211.6 lb.
9564 lbf-ft
100000 lbf-ft
53400 lbf-ft
250000 lbf
93200 lbf
59900 lbf
49500 lbf
---
WEA21 Slewing Drive

MODEL
OUTPUT TORQUE
TILTING MOMENT
HOLDING TORQUE
STATIC AXIAL
STATIC RADIAL
DYNAMIC AXIAL
DYNAMIC RADIAL
GEAR RATIO
TRACKING PRECISION
UNIT WEIGHT
WEa21
28.7 kN.m
203 kN.m
105.8 kN.m
1598 kN
596 kN
340 kN
270 kN
90:1
≤ .1°
372 lb.
21180 lbf-ft
150000 lbf-ft
78100 lbf-ft
359000 lbf
134000 lbf
76400 lbf
60700 lbf

---
WEA25 Slewing Drive

MODEL
OUTPUT TORQUE
TILTING MOMENT
HOLDING TORQUE
STATIC AXIAL
STATIC RADIAL
DYNAMIC AXIAL
DYNAMIC RADIAL
GEAR RATIO
TRACKING PRECISION
UNIT WEIGHT
WEA25
34.2 kN.m
310 kN.m
158.3 kN.m
1850 kN
690 kN
440 kN
320 kN
104:1
≤ .1°
430 lb.
25240 lbf-ft
229000 lbf-ft
117000 lbf-ft
416000 lbf
155000 lbf
99100 lbf
72100 lbf