HIGH-QUALITY GEAR MANUFACTURING FOR YOUR OPERATION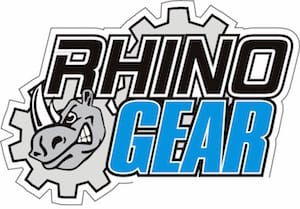 Small- to mid-sized OEM manufacturers from a number of industries trust Rhino Gear to meet both custom and standard gear orders that keep operations running smoothly.
Rhino gears can be made from a wide range of materials, including steel, steel alloys, hardened steel, stainless steel, brass, bronze, copper, aluminum, cast iron and nonmetallic materials.
Rhino gears are made in a full-service custom shop that produces custom gears, helical gears, spur gears, internal spur gears, splines, sprockets and pulleys, worms and worm gears, shafts, pinions and other custom machined parts. Our general machining capabilities include:
Milling
Drilling
Turning
Broaching
DEPENDABLE GEAR DELIVERY
Rhino Gear understands that your operation depends on having the right parts at the right time.
Standard delivery is in eight weeks (expedited delivery is available in as little as 4 weeks)
Breakdown services, blanket orders and stocking plans are available to help reduce customers' working capital and inventory
TECHNICAL SUPPORT
Each of Rhino Gear's offerings is backed by technical support. Our engineers are always available to discuss your application and gear requirements.
HIGH-QUALITY GEAR MANUFACTURING
The Rhino Gear engineering team is comprised of skilled craftsmen who can deliver high-quality, custom gears that meet or exceed OEM requirements. Our engineering team uses only quality materials and premium tooling.
FAIRLY PRICED GEAR MANUFACTURING
Thanks to an efficient workflow, skilled team members and fast turnaround times, Rhino gears are affordable, reliable and keep your manufacturing plant humming.
For more information on custom and standard gears, please see the links below.