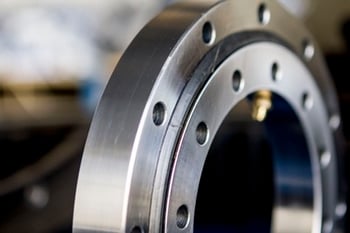 Now that you have specified an appropriate slewing ring bearing for your project, it is time to move into the installation phase. Ensure a successful installation by taking the following four factors into consideration.
1. Mounting Surface Distortion
There are a wide variety of sources that can cause distortion to your mounting surface. Common examples range anywhere from excess metal between the bearing and mounting surface to improper riser pads. The result is the same however regardless of how the distortion is caused - faulty installation that can hinder the integrity of your final product. Mounting surface distortion can result in the following problems:
Load concentration in the bearing
False readings during bolt tensioning
Bolt fatigue
Total bearing failure
2. Proper Sealing and Lubrication
Slew ring bearings should be sealed off from any factors, such as debris and corrosive elements, that could negatively affect the performance of the bearing. The type of sealing you choose to specify can vary based on application, so be sure to consult a bearing expert during this process. Lubrication, and relubrication, also need to be top of mind when specifying slewing ring bearings. Generally speaking, bearings will arrive pre-lubricated. Once they are installed into the final product, relubrication will have to take place from time to time. For some products this will be a daily task while others will only require more lubrication after every 100 hours of operation. These maintenance procedures should be clearly outlined in any manual associated with the final product.
3. Bearing Storage
Bearings are typically shipped with short-term storage in mind. If you plan on receiving your bearings and letting them sit on your shelf for an extended period of time, be sure to lubricate them before installation. You should also pay attention to the way that your bearing is being handled / stored once delivered to you and your team. If not handled properly, mounting surfaces or gear teeth can suffer damages. Dirt and other contaminates can also collect on the slewing ring bearings, resulting in difficulties during installation.
4. Proper Installation Procedures
While this last factor seems obvious, following proper installation procedures is oftentimes overlooked. First, the bearing's loading plug and the hardness gap should be positioned in the products minimum load zone. If these aspects are placed in the heavy load zone, premature failure can occur. You should also check the bearing races during this step of the process. The bearing races should be round after the bolts are tightened. Last but not least, final bearing torque and gear backlash need to be checked after the install is completed. If there is a mounting problem with your bearings, the bearing torque will be quite different post-installation.
What other overlooked measures do you commonly see when installing a slewing ring bearing? Share your thoughts in the comment section.