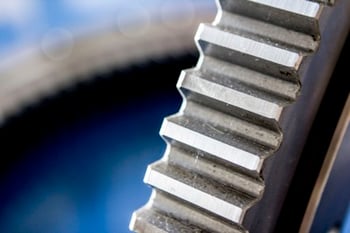 When it comes to specifying slewing ring bearings, it is easy to overlook some vital components of the selection process. This is especially true if you end up buying a catalog bearing instead of one customized specifically for your application. Be sure to ask the following questions to help ensure you are selecting the right slewing ring bearings for your product.
1. Will my support structure distribute the load properly?

When bearings are mounted on a surface that lacks uniform support, the chances that you will experience underload increases. A common mistake in the design phase of the support structure for a slewing ring bearing is assuming the support structure is rigid enough. However, localized deflections can change the loads, causing the bearings to experience loads that have a varied magnitude. If the proper steps are not taken, failure of the bearings can occur. Internal overload can also result from improper support structures.

2. Will my bolts be strong enough?

Following the guidance of ASTM A490 will help ensure that the bearing mountings you select are appropriate for your product. This is a stage that is oft-overlooked and has the potential to lead to system failure. Typically the equipment designer is responsible for determining the correct type of fasteners needed for the project. However, fastener suppliers and manufacturers should be consulted in order to truly get a gauge for what the specified fastener can withstand. They will be able to assist with the calculation of expected bolt loads to confirm that fastener integrity is at a maximum.

3. Is there a uniform bolt hole design?

Fasteners need to be placed in more locations than just maximum load areas. Bolt holes that are only located in areas where maximum loads occur can be as dangerous as instances in which an insufficient support structure is present and as a result should not be overlooked in the overall design of a product. It is important to remember that substantial force exist throughout the arc, not just the loaded sections. Uniform bolt circles can help to alleviate flexure and distribute the load throughout the bearing, fastener, and support structure.

Overlooking these simple questions and concerns that are common during the selection of slew ring bearings can ultimately lead to the overall failure of a product. Be sure to consult with the appropriate parties in order to ensure that your product will be successful and most of all, safe.

Do you ask any other questions when specifying slewing ring bearings? Tell us about it in the comments.