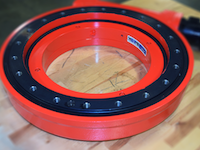 A slew drive is a gearbox designed to handle radial or axial loads using high rotational torque. In addition, the slewing ring bearing, at the heart of the drive, enables it to withstand high overhung or moment loads. A descendant of the "worm" screw, slewing drives are present in construction machinery, manufacturing, military equipment and many other applications that require strength and precision.


The physics of the slew drive makes it a versatile solution for many applications. In operation, the slew drive's axial movement, or motion around its axis, interacts to create radial torque. The action occurs by meshing the grooves of the horizontal screw with the teeth of a perpendicular gear. While turning, the worm gear's axial movement transfers magnified torque force to the radial gear. The number of threads on the horizontal screw and the number of gears that interact will determine the speed ratio of the setup.
Slew Drive Types
Slewing drives are available in many configurations depending on the task at hand. These may be single-axis or dual-axis turning in unison.
An hourglass configuration expands the capability from a single gear tooth to as many as 11 to create rotational torque by contacting the worm screw. Multiple gear teeth interacting at once allows the equipment to be more efficient and generate more torque.
Slew Drive Functions
Slew drives work best for applications in which high torque can create precision positioning and rotational accuracy. This design results in a device which works smoothly and powerfully with minimal backlash.
Because of the power and dependability generated by slew drive technology, the functions of this engineering technology apply to many types of equipment. One particular use, for example, involves solar technology, tracking the sun's movements in perfect time to generate maximum energy output.
Any job requiring high load capacity and reliable positioning may require the implementation of slewing drive engineering.
Slew Drive Features
Robust, smooth and consistent, slew drives have a distinct place in manufacturing, construction and many other venues. Based on a centuries-old engineering idea, slew drive-operated equipment can be simple or complex, depending upon the requirements.
Adding hydraulic, pneumatic or electric motors to single, double or hourglass design depends on the application. Other features such as brakes or self-locking features and open or closed chassis are among many options.
Slew Drive Applications
The list of active applications for slew drives is extensive. Several types of industries require some form of slew drive to make their operations more efficient. Equipment for mining, construction, metalworking and other applications that require unrelenting strength combined with faultless precision use slewing technology for safety and accuracy.
Powerful devices like aerial lifts, rotating forklifts, truck-mounted cranes, cable winders, fire trucks, hydraulic machinery and utility equipment depend on the safety and strength of slew drives.
Precision devices such as military equipment, satellite dishes, solar trackers, printing presses and telescopic devices benefit from the absolute precision that slewing drives provide to be effective.
Slew Drive Specifications
Depending on the configuration of the slew drive and the purpose of the equipment, each unit will have differing specifications. When defining the type and capability of the slew drive, the following variables are calculated:
Gear ratios
Precision
Weight
Output
Tilting moment
Torque
Dynamic and static axial
Radial dynamic
Slew Drives for Any Application
SlewPro can provide the slew systems and parts for any job. Whether providing standard parts and bearings, adapting to existing equipment or designing a new configuration, SlewPro's team of engineers will provide the best solutions.
Using 3D modeling, drawings and finite element analysis, SlewPro has created engineering solutions for a wide number of applications and configurations. Many of SlewPro's design solutions were completed far sooner than others in the industry could have accomplished.
Our slewing drives include:
SE Series: The enclosed design of the SE Series slewing drive makes them resistant to damage from wind, rain and other harsh environments.
WEA Series: The WEA Series slewing drive is an upgrade of the traditional WE Series with higher strength and full-seated design for outdoor use.
Other Series: The PE Series slewing drive is an ideal solution when precision is a must as it can be controlled between 0.05° and 0.15°.
Information in this article is based off content from Engineering 360.