Slewing Ring Bearings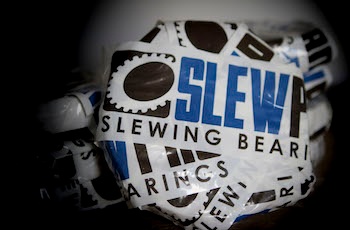 A slewing ring bearing is usually a circular device that supports the weight of rotating equipment and is used to turn devices of many sizes and types for industry, energy, transport, agriculture, radar and tracking devices, and even medical equipment. In different sizes and designs, slewing ring bearings turn heavy-duty cranes, offshore drilling equipment, and medical diagnostic devices.
Features of Slewing Ring Bearings
Slewing ring bearings are designed for large load-bearing capability and can manage a full range of heavy-duty mechanical equipment. These devices have the capacity for horizontal, vertical, or inclined operations of many varied applications. Each element may be custom designed to work independently or harmonize with existing equipment.
The variables of slewing ring bearings depend on the application, weight, and intended function of the equipment. Variable features may include:
Single, double, or triple row bearing design for light, heavy, and massive loads
Choices of mounting configurations
Options for raceway configurations that vary from 13 to 37-inches for the SlewPro Series 21 Series up to 12 or 180-inches for the SlewPro 100 Series.
Ball or cross roller designs
Sizes and location of bolt holes
SlewPro Slewing Rings are available in a variety of sizes and capabilities. Tailoring the models to differing uses and situations, SlewPro's technicians can modify the design, each with a particular capacity and use, to match the specified requirements.
Slewing Ring Bearings Applications
SlewPro Slewing Ring Bearings perform the hardest tasks in a variety of situations. The slewing equipment turns the massive cranes on construction sites and other off-highway venues. These are present in most equipment that requires strength, turning ability, and precision.
Customized slewing devices operate:
drilling equipment
wind power devices
mobile robotics extensions
satellite equipment and mobile arms on spacecraft
space tracking equipment
solar tracking devices
packaging and bottling devices
medical packaging equipment
and much more
Quality Bearing Solutions
SlewPro produces the most efficient options for any application. The SlewPro engineers design the exacting solutions for any use using 3-dimension and FEA (Finite Element Analysis) technology to identify the ideal configuration for any project, large or small.
SlewPro Offerings
SlewPro offers a broad menu of slewing ring bearings configurations. These range from the SlewPro 21, 30, 40, 45, 50, and 100 Series. Each has different capabilities and functions.

For more information, contact the slewing ring bearing professionals at SlewPro.
Information in this article is based off content from: Ritbearing Corporation