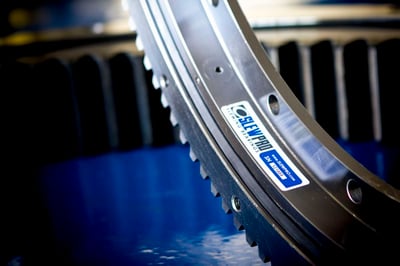 We often get people, both prospects and clients alike, that ask about our beginnings. How did you get into custom manufacturing slew ring bearings? So, we've decided to tell our story and, more importantly, explain why custom manufacturing matters to our slew ring bearing users.
Who We Are

In a prior life, our founder worked as an integrator for a mid-sized OEM. Due to the small quantities required, the manufacturers would not provide any design time so he was forced into buying standard bearings that required modification to make them fit his needs. He was constantly waiting for quotes thereby slowing down overall production times. Enough was enough.

The small to mid-sized OEM buyer's experience needed to change and who better to do it than a one-time client? Custom options needed to be made available for any purchase quantity without busting budgets or sacrificing quality. So here we are: a custom manufacturer who designs and manufactures precision-crafted products, such as slewing ring bearings, pinions, slewing drives and forged rings, for any purchase quantities.

What We Do

What does it mean to be a custom manufacturer? We work step by step with you and your team to ensure that you receive the product you need at a price you can afford. We never let our customers select a product out of a catalog without asking them about their application first. Our engineering department is dedicated to assisting customers with their applications to ensure our product best fits their particular needs. We also release both 2D drawings, 3D models, and specification sheets for a more efficient design process on our customers end. In order to finalize the design process, we provide our customer with an application sheet containing all the loading requirements and pertinent engineering information pertaining to their design.

To keep our manufacturing costs low, we outsource our products. This is typically a hot topic - we get it, it can be difficult to trust products coming from overseas. Let us put your mind at ease by explaining how you can trust our products. When we decided to go this route, we travelled to our potential manufacturers to ensure their plant had the capability and ethics to meet our strict standards. SlewPro completely defines and provides our manufacturer with the requirements for each product and inspects the products to ensure they meet said standards. In addition to demanding high standards, we let you test the bearing any way that you would like to set your mind at ease. Lastly, but of most importance, SlewPro takes responsibility for our products. We are not like other importers which pass the phone calls back and forth to their manufacturers when a customer has an issue. When you call SlewPro you will talk directly to the engineering and sales departments, currently located in northeast Ohio, until your issue is completely resolved. We want to ensure satisfaction and confirm that what we say is true - these are high quality products that will not cost you an arm and a leg. If you want to cut one in half, be our guest. Reach out here to request a sample.

Why We Do It

It all boils down to one thing- we want to provide all OEM's, big or small, with the product they need to continue developing and growing. We develop a relationship with each customer and never treat them as just another sale. We strive to provide our clients with high quality products at a very attractive price accompanied by the highest level of service. We've been in your shoes and no company deserves to be overlooked because they aren't a large manufacturer or require customization. We believe that every purchase should be an experience - and an excellent one at that.

Hopefully this article gives you some insight into who SlewPro is and answers some of your initial questions. If you have any more questions we encourage you to contact us.