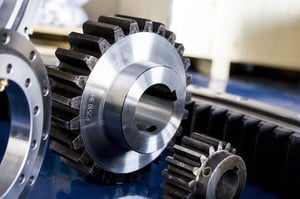 Lubrication is essential for maintaining the integrity of a slew ring bearing. When bearings are optimally lubricated, they not only run safely, but also reduce the potential for premature failure. In order to ensure that slew ring bearings are properly maintained, the following mistakes should be avoided.
1. Relubricating on a Yearly Basis
Every slew ring bearing has a recommended relubrication period and should be followed closely. These recommendations include the typical amount of lubrication needed for a reapplication as well as the most appropriate time interval.
It's important to note that these recommendations can depend on application. For example, it is recommended that a bearing is lubricated every 100 hours of operation. If the application involves continuous rotating, then the bearing should be lubricated after 20 hours of continuous use. In addition, bearings that are mounted on idle equipment, or those that live in storage, should be lubricated every six months.
Contact your slew ring manufacturer regarding your specific application in order to get the most accurate recommendation.
2. Not Using the Proper Lubricant
Not all lubricants are created equal. If two incompatible greases are accidentally mixed, the reapplication process will be ineffective. The following chart depicts examples of recommended lubricants.
| | | |
| --- | --- | --- |
| Brand | Raceway | Gear |
| Exxon | Ronex MP | Surret Fluid |
| Castrol | Molub-Alloy 220 ES | Optimol Viscogen 0 |
| Mobil | Mobilux EP2 | Mobiltac 375NC |
| Texaco | Multifak EP2 | Crater 2x Fluid |
| Sunoco | Ultra Prestige 2 EP | |
| Shell | Alvania EP2 | Cardium Fluid M or H |
| Kluber | Centoplex 2 EP | Grafloscon C-SG 0 Plus |
| 76 Lubricants | Unoba EP2 | Gearite HDCF 4800 |
3. Lubricating to the Point of Overflow
Although this is another misconception that varies by application, it is generally not recommended to lubricate bearings so much so that the grease purges from the seal. The operating temperature and pressure within the cavity is likely to increase when excess grease is present. As a result, performance can be hindered.
4. Adding Additional Grease Whenever Bearing Makes Noise
In some instances yes, your bearing will need to be lubricated if it is making noise, but this is not true for all situations. Noisy bearings can be a sign of internal damage as well. When internal damage occurs, extra lubricant will only provide temporary relief. Failure can occur if the root cause of the noise is not identified and remedied appropriately. If failure does occur, remove the bearing as soon as possible and reach out to the bearing manufacturer to determine why the bearing was not compatible.
By avoiding the previously mentioned mistakes, you will be able to ensure that your slew ring bearings are properly lubricated and performing as intended. If you have additional lubrication questions about your specific application, please reach out to us here.
Do you have additional bearing lubrication tips? Tell us about them in the comments.