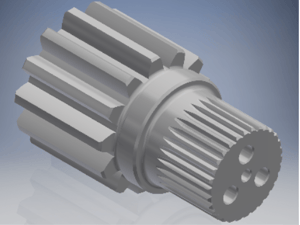 When you get dressed, you put on your shirt and pants. You probably take the time to pick out all your undergarments. Most people even do their hair and brush their teeth. When you are ready to go, do you slip your shoes on without putting on socks first? Of course not.
Most people understand that the small things matter in life. Socks may not be the most exciting part of your wardrobe, but you look funny without them. Worse, your feet will probably start to get uncomfortable, and you could even ruin your shoes. Socks prove that something does not have to be prominently visible to make or break your readiness for the task at hand.
The same principle applies to manufacturing. When you take the time to buy the best slewing ring bearings for your needs, be sure to complete your purchase with pinions.
What Is a Pinion?
A pinion is used to drive large geared bearings. Typically, slewing ring bearings are designed to support weight in a rotating capacity. These bearings support heavy loads and see extreme usage conditions, which is why it is so important to have them properly fitted and expertly constructed. While most people spend the time and money to obtain the best geared bearings for their project, they fail to consider the next step.
This is just like going about your day in shoes without socks. When you buy your bearings, you need to select the right pinions at the same time. This is because a pinion is specially crafted to match the bearing, creating a necessary connection to support the overall workload.
Pinion Types
No two bearings are created alike. That is why pinions also come in all styles, sizes and shapes. When picking a pinion, consider the four following options.
Bored: A bored pinion has a keyway and set screws
Splined: Splines can be coarse or fine
Face mounted: Designed for smooth installation
Male shaft: This style can come with or without splines
Each option can be made from a variety of materials. For the best results, heat treatments are also available. If corrosion is a concern, specialized plating can be added.
The Advantage of Buying Now
Many bearing manufacturers do not try to sell you the pinion as part of your purchase. While there are other outlets to purchase these necessary items, buying them separately does not guarantee the best fit. Without the best fit, functionality can be compromised.
Think of the pinion and the bearing like a lock and key. You may be able to open a lock without the correct key, but the process ultimately damages all the working parts. Eventually, such a mismatch could render both devices unusable. The better alternative is to purchase a lock with the right key, which ensures years of safe and productive use.
When you purchase your bearings, you are spending thousands of dollars for the very best. This is not the time to overlook the details. Make your selection the best it can be with a pinion purchase at the same time.
Our Pinion Matches
We not only sell the best high capacity geared bearings, but we also sell pinion products that match. When you buy both of these products from us, you get the best match for superior movement, improved strength and ultimate productivity. We will work with you to create the best parts for your specific needs. With your additional pinion purchase, you can have confidence that your bearings will work at peak capacity for years to come.