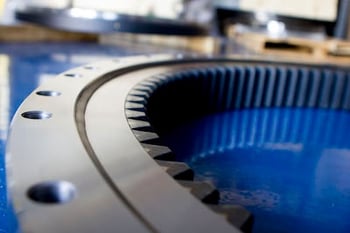 Slewing ring bearing failures can be catastrophic situations that can even end in death in the most serious cases. Fortunately, there are preventative measures you can take to help ensure your slewing ring bearings operate the way you need them to time and time again. Below you will find three preventative maintenance steps that you need to take when caring for your slewing ring bearings.
1. Lubricate Bearings Regularly
When slewing ring bearings are installed in your final product, they are typically lubricated appropriately. However, this doesn't mean that these bearings can be ignored for the remainder of the product's life. Lubricant is used to prevent surface damage from occurring on your slewing ring bearing. As result, you should establish a regular maintenance routine with your products in which you re-apply lubrication to your bearings. If you see the following signs, you should lubricate your bearing prior to your scheduled maintenance day:
Bearing discoloration
Peeling
Scoring
High heat areas
It is important to note that you should be relubricating with a product that is compatible with the bearing's original lubricant. Lubricants with different chemical makeups can combine and have adverse effects on your bearing, again resulting in damage.
2. Don't Overlook Load Charts
Slewing ring bearings have specific load charts that need to be adhered to in order to avoid failure. These charts outline the appropriate limits for speed, temperature, and load. Heavy overloads can result in damage to these bearings, such as fractures. Your bearing might be experiencing an overload if:
You hear noise or vibrations during operations that aren't normal
Temperatures are rising
Your product is no longer performing as it once was
Fragments of metal appear in lubrication or filters
If any of the situations above occur, you should replace or repair your slewing ring bearing immediately to prevent further harm to both your product and bearing.
3. Inspect Thoroughly
Even the tiniest amount of foreign particles can cause problems with your slewing ring bearing. A proactive maintenance approach is vital to preserving the lifespan of your slewing ring bearing. Be sure to check for the following commonly overlooked scenarios during your routine maintenance checks:
Look for metal chips or other debris in purged lubricants surrounding bearing
If you notice damage to your bearing, inspect surrounding areas of product to catch any other potential damaged areas
Look for leaks and other damages to the seal surrounding the bearing
What other maintenance tips do you have when it comes to preventing the failure of your slewing ring bearing? Share your thoughts in the comments.