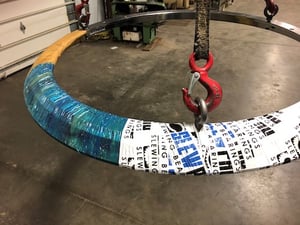 No matter how great the product you're ordering is, if it isn't properly packaged, it's most likely going to be rendered ineffective or even useless to your business. Product packaging is so much more than just aesthetics or a cog in the process of getting a product from point A to point B.
Without the necessary material innovations, procedures and overall care in place, the product being delivered may as well never have been delivered at all. Here are some of the key characteristics of superior packaging.
Packaging Enables Transport
Items could range from cumbersome, to massive to extremely fragile. The packaging in all cases must ensure that the product can move completely intact for whatever bumps lie in the journey ahead.
Packaging Safeguards the Product
The end goal is to always ensure the product being shipped arrives at its final destination in the same exact shape that it left the warehouse. Anything less means the customer didn't receive what they agreed to order.
Packaging Facilitates Storage
Not every product is something your business is going to deploy immediately. Whether it needs to sit on the shelf until tomorrow, to next week, to next month, the product's packaging must ensure that it doesn't deteriorate before the time promised.
Packaging Conveys Vital Messaging
Packaging isn't only a way to market a business or product, but it should also convey all necessary instructions as well as content on how to troubleshoot and where to get additional information if needed.
The Importance of Sound Packaging
When you're manufacturing a product, the packaging your materials and components arrive in is of the utmost importance to ensuring the quality of your final product.
In the world of bearings, for example, OEMs might need to store the product for up to six months, and the bearings must still be in mint condition when they go into production.
That means no rust, no dings and no scratches. Otherwise, your company could be at serious risk for production delays causing damage to sales, customer relations and your overall brand.
SlewPro Is the Industry-Standard in Packaging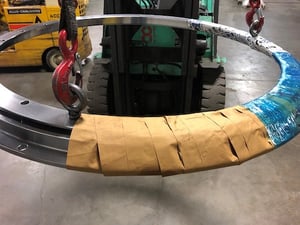 At SlewPro, our shipping procedures and materials are second to none. Here's how we ensure the SlewPro product you order is the product you receive when your business needs it most:
Guaranteed shelf-life: Upon request, we ensure your slewing rings will last six months or longer.
Multilayered wrapping: This includes a special lubricant to prevent rusting, a paper overwrap, a stretch wrap to create a vapor barrier and an overtop barricade tape to prevent any chance of dings.
Detailed instructions: We let you know the optimal storage position of products, as well as temperature requirements.
No extra care required: The package you receive will never need to be unwrapped or tended to throughout the entire duration of the product's shelf life.
Enclosed boxes: Products arrive in enclosed boxes and not on skids, for an added element of protection.
Special chemical protection: A chemically treated paper option is offered for extended storage.
Extensive quality control: We run through a checklist of final quality control checks moments before sealing every package.
Once you open a SlewPro product, it will be in as great of condition as the day it went on the shelf, helping ensure you never have any downtime. Imitation is the sincerest form of flattery and even many of SlewPro's competitors have begun to attempt to mimic SlewPro's innovations in packaging.
Contact us today to find out more about SlewPro's products and our quality guarantee, or take the next step and request a quote.