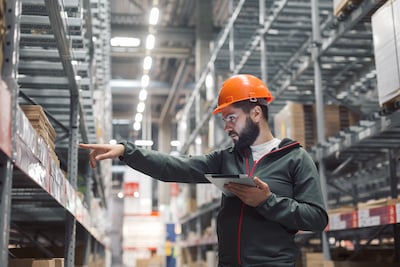 Without proper inventory management, your business is likely wasting a lot of money.
Maintaining excess supply in your facility is costly—tying up cash that could be used for other strategic endeavors and creating additional revenue opportunities for your company.
Not only are you losing money by holding surplus stock, but those assets aren't being put to work for your business, doubling the negative effect. Not to mention, your organization is going to take an unnecessary tax hit on that leftover inventory at the end of the year.
With most companies continuously turning over every stone in search of ways to get leaner and more profitable, improving your stocking strategy is one of the easiest methods to boost your bottom line.
Striking a Balance
Of course, not having enough inventory to deploy at a moment's notice runs the risk of creating lead times that delay your delivery schedule. For example, if a company that builds large machinery has a 10-week production line, but their supplier has a 12-week lead time to deliver a critical part, this is going to result in an unacceptable loss of business.
This is why you need to strike an appropriate balance that maximizes working capital while ensuring production keeps churning without a hitch.
Employing a Stocking Strategy
The first step in creating an efficient inventory strategy is making the just-in-time (JIT) calculation of which supply levels must be maintained in-house to ensure production remains undisrupted.
At SlewPro, we help our customers make this determination and provide customer-specific stocking programs that keep excess supply on our warehouse shelves so you don't have to. This frees up your cash on hand in the process.
With the goal of simplifying the buying experience, SlewPro sets the industry standard in responsiveness, quote turnarounds and the quick delivery of finished products.
SlewPro's Best-in-Class Stocking Program
Here are some highlights of SlewPro's inventory and fulfillment services:
Completely custom: Our program is customized to meet the specific requirements of each client, ensuring they only need to keep what they need in stock so they can invest in other aspects of their business.
Blanket orders: Blanket orders with flexible scheduled releases can be created to save additional dollars.
Product quality: We offer climate-controlled warehousing to help guarantee product quality.
Personalized service: We pride ourselves in offering a level of service that small- to mid-sized OEMs can't get anywhere else.
Essential documentation and support: You'll receive 2D and 3D files with every quote, as well as application and design assistance.
Shorter lead times: Our 12–14 week lead times are much shorter than the competition's, which can be up to 52 weeks.
If you'd like to discuss how SlewPro can create an efficient stocking program that saves your company money, contact us today.