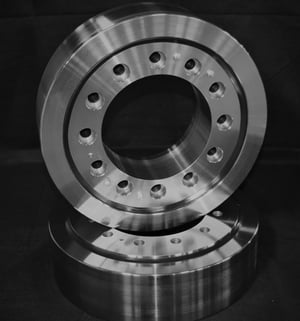 Growth can be painful. 2018 was a year full of many ups and downs. Through it all, our SlewPro team powered through. 2018 was our first full year in our new manufacturing facility, we put procedures in place to exceed our customers' expectations and we found ways to improve our efficiency and do more with less.
We welcomed our new General Manager, David Bolton, who brought with him years of experience both in business and in teaching. His understanding of purchasing, production and the slewing ring bearing market, along with scheduling, has proved invaluable. His many years as a professor positioned him to mentor and coach our young leaders as well.
This year was the first year to fully utilize our MRP system. For those of you who have been through this type of implementation, you understand what this means and the challenges we faced. 2018 saw significant growth in our Rhino Gear product offering, adding new OEM customers and growing existing ones. A tremendous number of gears were made and shipped from our manufacturing facility.
2018 saw a slew of new OEM customers for our SlewPro family of products, with new leads coming from the web in ever-increasing numbers. In 2019, we hope to do a better job of discussing and promoting our successes. God has blessed our growing business. As we enter 2019 it's clear that our growth will continue. I have no doubt that our talented team will keep pace.
To add to this continued growth, we are pleased to announce that David Yabrough has joined our sales team. David will work to grow our sales throughout the oil patch covering Texas, Oklahoma and Louisiana. David brings with him over 20 years of slewing ring bearing sales. We are excited to welcome him to our team. As we enter our eighth year, it amazes me how we have grown from a small office and a team of one into the company that we have today. It's only the start!
In our new facility in 2018, we marked the year by manufacturing our first slewing bearings produced by our talented team. This for me was our most significant achievement and has been a goal from the very beginning.
In 2019, we will put continued effort toward manufacturing more of our products in-house. It's exciting and rewarding to start this new year. We will accomplish a tremendous amount of new manufacturing. I feel it in my bones. Through faith and hard work, there will be no limits to what Potesta and Company will achieve in 2019.
To all our existing customers, thank you so much for your continued support. We will not let you down. To all the new OEM customers who will learn the name SlewPro this year, welcome!