SlewPro Case Study: Wolf Robotics
Custom parts manufacturer meets time and specification requirements, saving time and money for Wolf Robotics.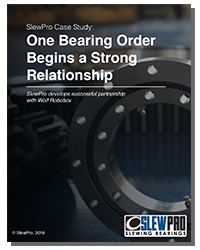 When Wolf Robotics needed a quick turnaround on a new bearing for a special project, SlewPro was the only company able to meet the time and specification requirements. The project met all requirements and was on budget, earning trust from Wolf Robotics' engineers who were once reluctant to change suppliers because they trusted their current suppliers and wanted to avoid any potential issues with new bearings.
Since then, SlewPro has continued to produce more bearings for Wolf Robotics, with each project being on time and lower in cost than previous suppliers. That success has led to orders for SlewPro pinions that merge with the robotic integrators' slewing ring bearings.
Thanks to SlewPro's pricing, stocking quantities, lead times, excellent service, high product quality and delivery on promises, a single bearing order has developed into a successful partnership that is saving Wolf Robotics time and money.